Description
Details
Note: The keyboard in the photos is optional, not for free.
Teclast X2 Pro Tablet PC uses Intel Core M 2.0GHz CPU and Intel HD Graphics 5300 GPU, 4GB RAM + 128GB ROM with 11.6 inch1920*1080 IPS Screen, Windows 10 OS, promises quite a fast operation speed, which is quite amazing and impressive. Besides, it supports 4K video, WIFI, Bluetooth, HDMI, OTG, etc; all available making it the most valuable choice to buy Teclast X2 Pro.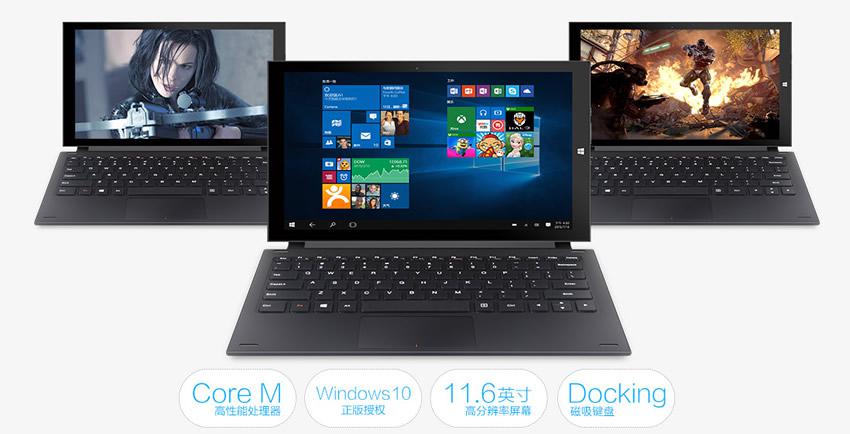 11.6 inches, very stunning visual experience
Teclast X2 Pro choice of resolution 1920 * 1080 11.6 inches original IPS screen.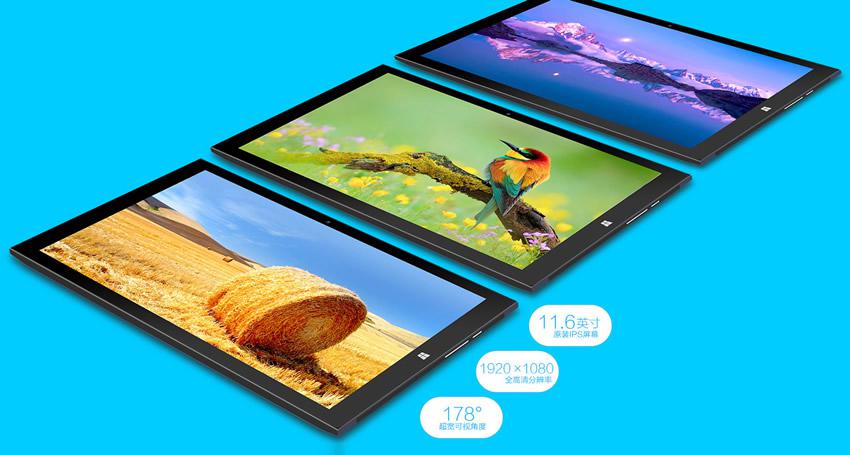 4GB RAM + 128GB ROM
4GB ROM provide a high speed of opening applications and running large games. Besides, with the 128GB ROM, you can have a large storage for video and audio files. At the same time, it also support TF card extended.

Double standard USB3.0 interface, high speed data transmission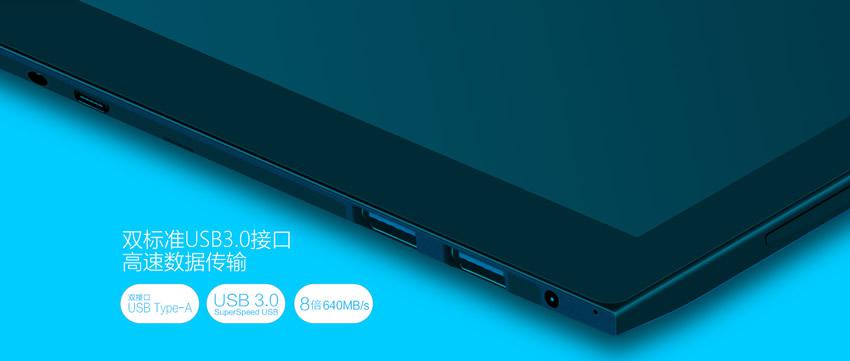 24 the core design, HD5300 GPU, experience the shock of the game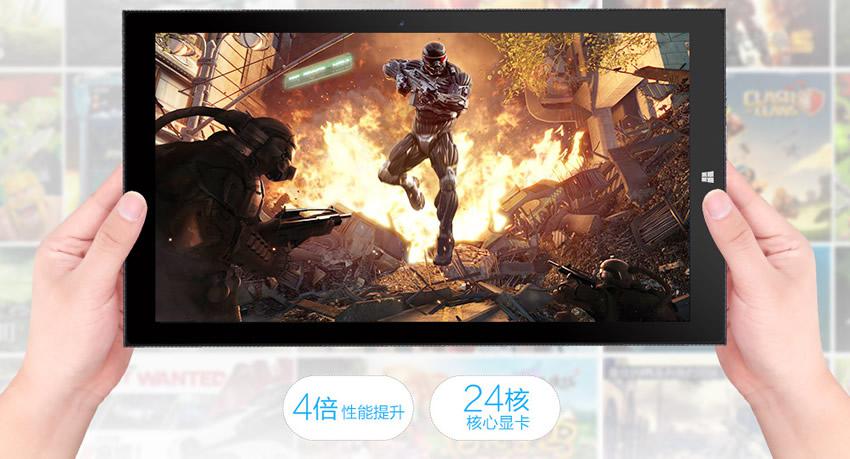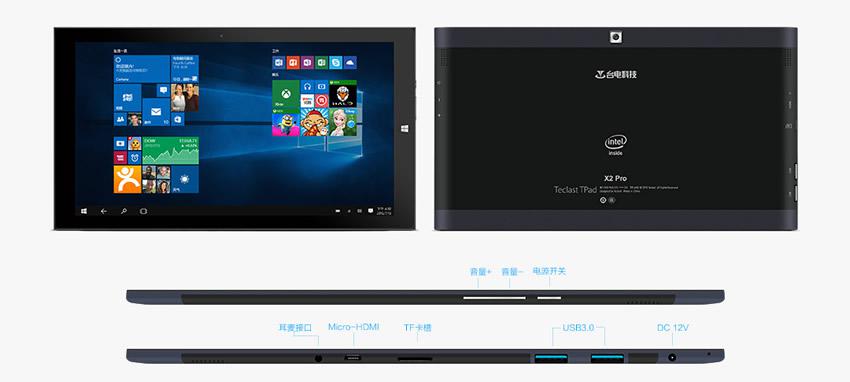 Teclast X2 Pro Tablet PC Reviews:
- 11.6 inch Screen, 1920*1080 pixels display
- 64 Bit Intel Core M 2.0GHz
- 128GB ROM, 4GB RAM
- 2.0MP front camera + 5.0MP back camera
- Windows 10
Teclast X2 Pro Tablet PC Specs

Model

Teclast X2 Pro Tablet PC

Color

Black

Shell Material

Metal

OS

Windows 10 (If you need Win 10 Pro,you need buy license key from Mircosoft)

CPU

64 Bit Intel Core M 2.0GHz

GPU

Intel HD Graphics 5300 24EU

ROM

128GB eMMC

RAM

4GB DDR3L

Size

11.6 inch

Type

IPS Capacitive Screen

Resolution

1920*1080 pixels

Card Extend

Support

Camera

Dual Cameras,

front camera 2.0MP, back camera 5.0MP

with AF

 

Teclast X2 Pro Tablet PC Basic Function

Earphone Interface

3.5mm

Video

Support 4K video playback(4096*2160)

WIFI

Yes, 802.11 b/g/n

GPS

No

Bluetooth

Bluetooth 4.0

HDMI

Yes

Gravity sensor

Yes

Muilt-touch

Yes, 10 point touch

Battery

45000mWh

Size

305mm(L)×199mm(W)×9.9mm(H)

Weight

990g

Language

English, Chinese

 

Teclast X2 Pro Tablet PC Accessories:

1 x Teclast Tablet PC

1 x USB Cable

1 x Charger

We will send adapter plugs according to the shipping address of the buyer.
Reviews
Tags
Questions on Teclast X2 Pro 4GB 128GB Core M 64 Bit Windows 10 Tablet PC 11.6 inch 5.0MP camera WiDi HDMI 45000mWh Battery Black
Sort by

From me at

8/24/2015 4:37 PM

From Nicolas Panagi at

8/27/2015 2:36 AM

From Dan at

8/28/2015 10:38 AM

From rgnr at

9/22/2015 10:47 AM

From paolo at

9/27/2015 5:57 AM

From paolo at

9/27/2015 5:59 AM

From Yves Cools at

10/3/2015 6:01 AM

1. Can you verify and confirm that this tablet has GPS ?
2. How much SSD storage space does the Android OS take up ?
3. How much free storage space is available in the Android OS ?
4. How much SSD storage space does the Windows OS take up ?
5. How much free storage space is available in the windows OS ?
POMP Mall
Thank you for your mail.
Teclast X2 Pro tablet does not support GPS,
When we got the tablet, we'll announce specific specifications.
Any other question, contact us any time.
Best regards

From mike at

10/5/2015 6:29 PM

hi. windows 10 is legit and activated ?
i see on youtube thath on teclast will be a fake activation.
is windows original ?
POMP Mall
Thank you for your mail.
Windows 10 requires you to activate,
It is genuine windows system.
Any other question, contact us any time.
Best regards

From anne at

10/5/2015 6:29 PM

From luke at

10/5/2015 6:32 PM

From mike at

10/6/2015 2:03 AM

From Jim at

10/10/2015 10:48 PM

From Yves Cools at

10/26/2015 9:29 AM

For the 128 GB version :

1. How much SSD storage space does the Android OS take up ?
2. How much free storage space is available in the Android OS ?
3. How much SSD storage space does the Windows OS take up ?
4. How much free storage space is available in the windows OS ?
POMP Mall
Thank you for your mail.
We will release the full specs for this model on our website soon.

From Jongbin Lim at

10/30/2015 1:29 AM

HI. I've just ordered it.
I wonder how long does it take to Korea.
Is this package include keyboard?
POMP Mall
Thank you for your mail.
you will got your package in 3-5 business days around,
Teclast X2 Pro tablet not include keyboard.
Any other question, contact us any time,
Best regards

From Conway at

11/11/2015 5:01 PM

From Evans at

12/6/2015 8:50 AM

From Miguel Gonzalez Andres at

12/11/2015 10:45 AM
Ask Your Own Question
You may also be interested in the following product(s)