Description
Details
ThL 5000 Smartphone use MTK6592 Octa core 2.0GHz CPU, 2G RAM + 16G ROM with 5.0 inch 1920 x 1080 screen, Android 4.4 OS, promises quite a fast operation speed is quite amazing and impressive. 5.0MP front camera for convenient self-capturing, 13.0MP back camera for you to record every single moment clearly; all available to make this phone the most valuable choice buy THL 5000.
THL 5000 mobile phone Powerful, Fast, Smooth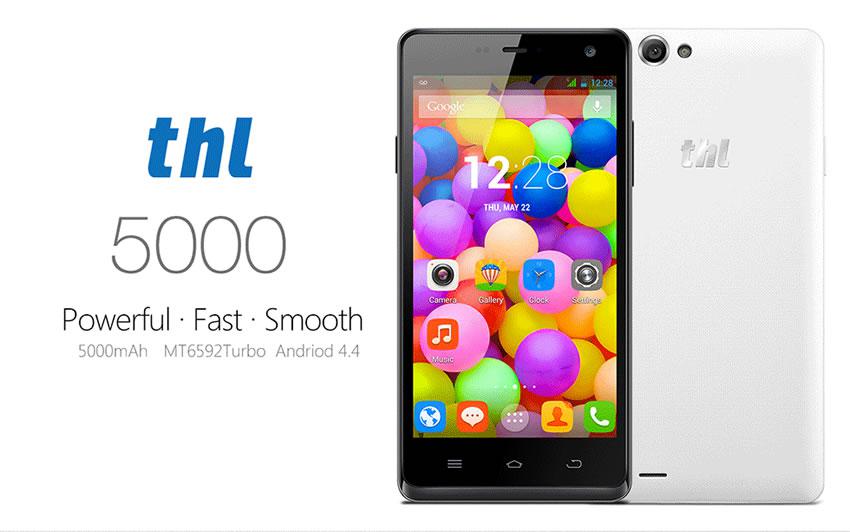 5 inch FHD display screen
For better protection of the display screen, the THL 5000 adopts the Corning 3rd generation glass which is twice tempered and 1000 times firmer than the normal glass and whose screen resolution can be 1920*1080, 441PPI.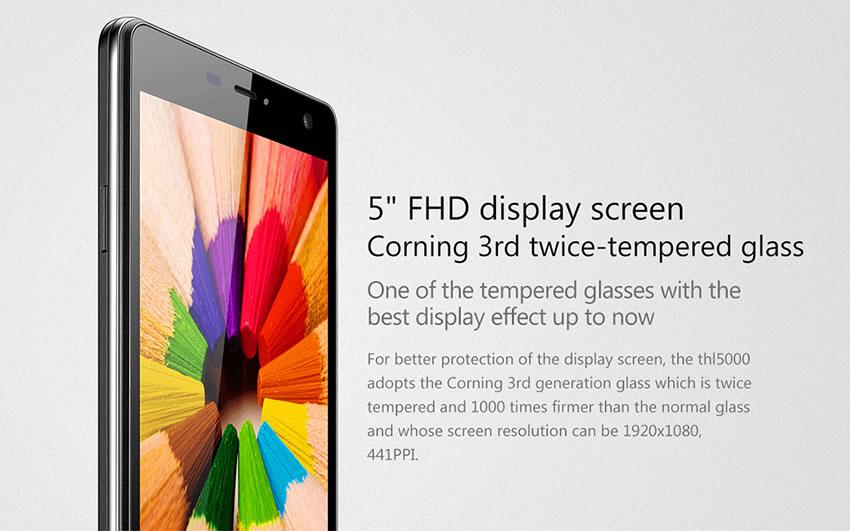 Sony 13 million pixels camera
THL 5000 adopts Sony IMX135 13 million pixel camera with F1.8 aperture, resulting in low light conditions can also shoot clear and bring photos, While reducing the blur caused by jitter. Under the large aperture can also get a more shallow depth of field, emphasizing the back ground blur effect.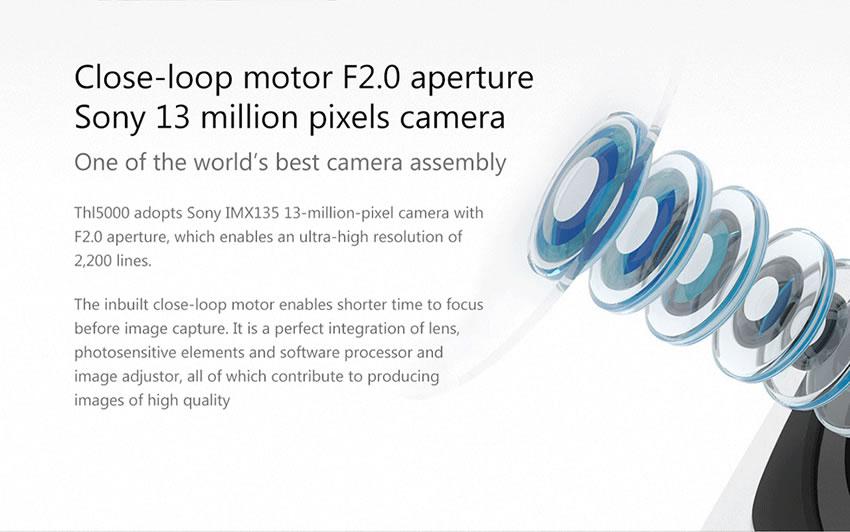 Powerful 5000mAh larger battery
It's battery adopts the latest technology, silicon anode li-polymer battery. whose unit density capacity is 4 times larger, bottom-current 4 mAh and average operating current 300mAh. The mobile phone is only 8.9 mm-thick.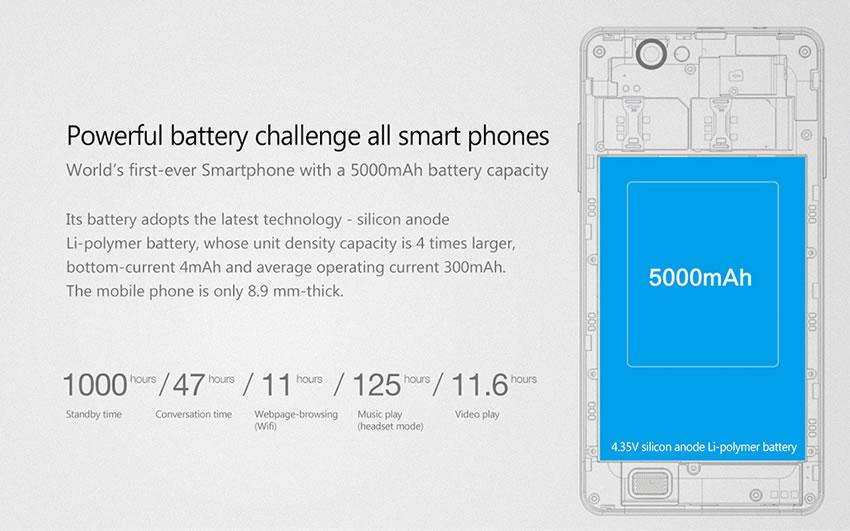 THL first Android 4.4 OS mobile phone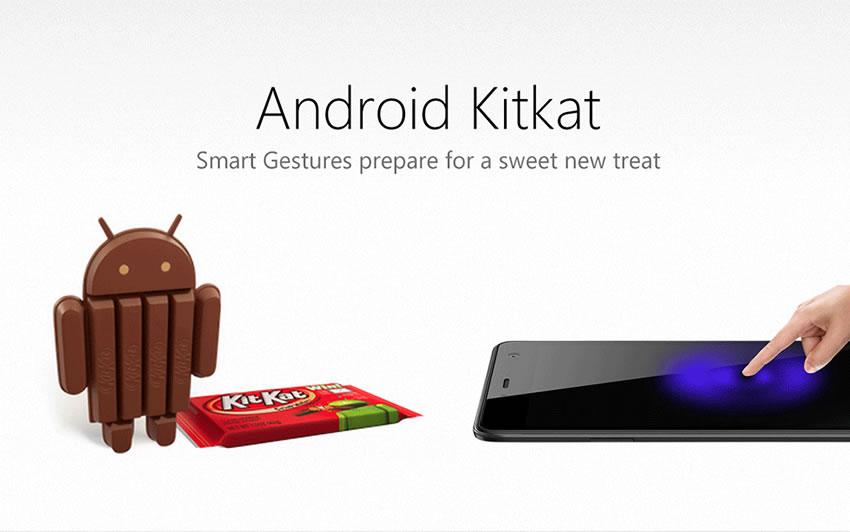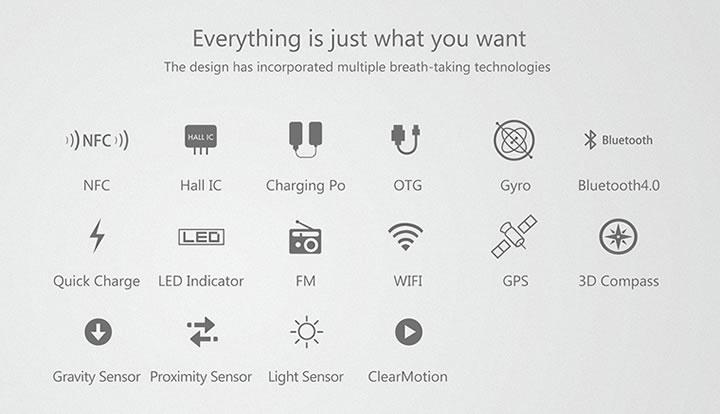 ThL 5000 Smartphone Basic Information

Model

ThL 5000

Band

2G: GSM 850/900/1800/1900MHz
3G: WCDMA 850/2100 MHz

Sim Card

Dual SIM Card Dual Standby(one micro-sim card)

Service Provide

Unlocked

Style

Bar

Color

White

Shell Material

Plastic

OS

Android 4.4

CPU

MTK6592, Cortex A7 octa core, 2.0GHz

GPU

Mali-450 MP4

ROM

16GB

RAM

2GB

Display Size

5.0 Inch

Type

IPS, capacitive touch screen, Corning III gorilla glass, OGS technology

Resolution

1920 x 1080 pixels

Screen Color

16000K Colors

Card Extend

 

Camera

Dual Cameras,

5.0MP front camera

;

13.0MP back camera

with flashlight

 

THL 5000 Mobile Phone Basic Function

Ringtones Type

Polyphonic/MP3

Audio File Format

MP3/WAV/AMR/AWB

Video File Format

3GP/MPEG4

Image File Format

JPEG/BMP/GIF/PNG/GIF

E-book Format

TXT/CHM/DOC/HTML

FM Radio

Yes, earphone needed

Earphone Port

3.5mm

Data transfer

USB/Bluetooth

Mobile internet

WAP/WiFi

Phonebook

500

Message

SMS/MMS

Input

Handwrite/Keypad

TV

No

GPS

Yes, built in

JAVA

No

WIFI

Yes

Bluetooth

Yes

Gravity Sensor

Yes

Multi-Touch

Yes, 5 point touch

Language

English, Bahasa Indonesia, Bahasa Mealyu, Cestina, Deutsch,Espanol, Filipino, Francais, Khmer, Italiano, Magyar, Nederalands, Portuguese, Romana,Vietnamese, Turkish, Greek, Russian, Hebrew, Arabic, Thai, Korean,Simplified/Traditional Chinese

Other Feature

3G, WIFI, GPS, FM, Bluetooth, Ebook, Email, Messaging, wallpapers,calendar, calculator, clock, camera, tethering & portable hotspot, NFC, OTG, Play Store, etc

 

ThL 5000 Smartphone size: 144.2 x 70.4 x 8.9mm
ThL 5000 Smartphone Weight: 146g

 

THL 5000 Mobile Phone Accessories:

1 x 5000mAh Battery

1 x USB Cable

1 x Charger

THL 5000 will be shipped with adapter plugs for the shipping address of the buyer.

1 x 3.5mm Earphone

1 x User Manual
Reviews
best of all

Review by

DiWa

The THL5000 is the best phone i've ever had (Posted on 2/17/2015)

very good

Review by

thL_lover

I got my new phone just few days ago. I am using it now and love it.
(Posted on 12/9/2014)

Overall a Very Good Product

Review by

Alis

I got my THL 5000 on 11th day through Airmail and it was very fast. Overall a very good product with these type of Spec..and worth for money. Screen resolution, camera, battery are superb.
No games lagging, running smoothly all the heavy Apps. Good to know that its having double tap feature to wake up the screen. It has got all the new features which you can find in any branded cellphone. Lastly, an impressive performance from THL.

Only Cons:
1) Little bit heavy coz of battery size.
2) No 4G (Posted on 9/17/2014)
Write Your Own Review
Tags
Questions on ThL 5000 Android 4.4 MTK6592 Octa core Smartphone 5.0 Inch 2GB 16GB 5000mAh Battery White
Sort by

From murak at

7/13/2014 3:02 AM

From Alfred Valderama Marasigan at

7/13/2014 4:02 PM

From Samer Aamar at

7/14/2014 9:42 AM

From Andrea at

7/15/2014 10:15 AM

Isn't the front white as the back? What does it mean it supports root,, there's a fast command in settings ( would br cool, but what about warranty then?)

Is there a case and a flip cover? Shipping cost, duty taxes? Thanks

Happy owner of thl 4400 (maybe there's a bug which make battery drain during stand by. Also gps is not good)
POMP Mall
Thank you for your mail.
THL 5000 phone white version front is black, back is black,
THL 5000 phone support ROOT,
All are under one year warranty. (Excluding the accessories). If any problems ,pls contact our after-sale customers service any time .

Updated: THL 5000 mobile phone is in stock, here: http://www.pompmall.com/thl-5000-android-4-4-mtk6592-octa-core-2gb-16gb-smartphone-5-0-inch.html

From Seo at

7/15/2014 8:35 PM

From r. muniz at

7/18/2014 11:33 AM

From Prakash at

7/20/2014 12:59 AM

From Kefas at

7/21/2014 6:26 PM

hi! i am a little bit confused about the colour, you said the white THL 5000 has a black front and black back, then why is it called white? and i want to place an order but i did not see DHL shipping option and i want to ship to Nigeria only by DHL, how do you solve this problem?
POMP Mall
Thank you for your mail.
We have to re-edit THL 5000 phone,
If there no DHL shipping option, description use DHL to send it to you country is very difficult.

From Abdulzahra Al Khenaizi at

7/22/2014 6:33 PM

Do the package include all the following


Package Contents

1 x Smartphone
1 x 5000mAh Battery
1 x Headphone
1 x OTG Adapter
1 x Screen protector
1 x USB Cable
1 x USB Charger
1 x User Manual

Thanks

POMP Mall
Thank you for your mail.
Yes, but THL 5000 mobile phone battery is built-in.

From Mansimran at

7/29/2014 3:22 AM

From Mansimran at

7/29/2014 3:22 AM

From Marcos at

7/30/2014 4:32 PM

Hi, I've got some questions;
Does the mobile include a case or a flip cover? and if it isn't include it, are there a case for this product? If there are a case, could you give me the link to this product, please?
Thanks,
Marcos.
POMP Mall
Thank you for your mail.
THL 5000 phone come with case.

From milen at

8/7/2014 7:31 AM

From Nicolas Panagi at

8/14/2014 12:17 AM

I have just purchased this THL 5000 phone. I am very happy with the phone as well as with the delivery service.
However, I have a couple of issues with it that I would like your help on:

-The ram utilization is at 65% when i boot the phone and even using a task manager does not free up any more ram.(1.2GB always in use)

-Also, when the phone charges it gets too hot.

Can you please help me with these issues?
POMP Mall
Thank you for your mail.
System will occupy part of the RAM, this is normal phenomenon.

From puli at

8/19/2014 9:41 AM

I have two doubts,
first one is some website is displayed octa core 1700 & another web is given octa core 2000 which one is right?
second one is important this mobile is supporting or not Indian local languages?
POMP Mall
Thank you for your mail.
THL 5000 phone CPU is MTK6592, Cortex A7 octa core, 2.0GHz,
ThL 5000 support Indian languages.

From puli at

8/19/2014 9:48 PM

if u want hit Indian market then do it !
1. use 4 GB ddr3 ram
2. upgrade true octocore 2500 and above speed
3. highest PPI display (441 above ex 521 PPI) minimum 5 inch quad HD display.
4. SD support up to 128 GB
5.use always 5000mah above battery with faster charging and low power using softwares or hardware.
6. camera, front that's not a matter but rear cam is minimum 16mp to 20 mp with low light fine capture , dual flash and 4k videos capture support.
7.use all latest technology's like gorilla glass 3 , NFC, OTG. kitkat 4.4.4 , sensors examples compass all including (it's all in dual sim card support mobile).
8. LAST BUT NOT A LIST , it u will launched this in Indian market it price below 27000 Indian rupees u keep it .
( definitely u become a no.1 mobile selling brand in India )

POMP Mall
Thank you for your mail.
Thanks for your advice.

From KEFAS MUSA at

8/29/2014 10:41 PM

From Laura van Leuven at

9/2/2014 8:56 AM

From may at

9/9/2014 11:43 AM

may I know if you offer free delivery to Nigeria. Again, do you have a distributor in Nigeria??
POMP Mall
Thank you for your mail.
We support free shipping to Nigeria,
I regret that we have no dealer or re-seller in Nigeria, but we support worldwide shipping ,you can purchase this directly from our online shop.

From may at

9/9/2014 12:57 PM

do u have a distributor in Nigeria?
how much will the delivery to Nigeria be?
POMP Mall
Thank you for your mail.
I regret that we have no dealer or re-seller in Nigeria, but we support worldwide shipping ,you can purchase this directly from our online shop,
The shipping cost to Nigeria is 11.0USD by Airmail.

From Juan Prado at

9/13/2014 9:26 AM

From Gemy at

9/14/2014 4:53 AM

From Andrianto Dwi Laksono at

9/20/2014 11:39 AM

Hi there,

I hope you can help me here.
I have a problem run "Path" application on this phone.
It always error and if chose send report, google play service crash.

Can you tell me what's wrong?

Thanks.
POMP Mall
Thank you for your mail.
Please re-download a Google Play.

From Kaya at

9/21/2014 9:27 AM

From Smyrna at

9/25/2014 5:53 AM

Dear Sir or Madam,

Thanks a lot for your help. My phone has been delivered today. But, all the cables are white. Is there any reason why they are white? Don't you have black cables? If so, it would be nice to know that beforehand. In this case I would think to buy a white phone.



POMP Mall
Thank you for your mail.
THL all phones cables are white, no black.

From Jack at

9/30/2014 12:01 AM

Hello sir,where are the phones shipped from,would there be taxes/customs if sent to UK or Ireland?
Thanks
POMP Mall
Thank you for your mail.
We will send your package from our HongKong warehouse,
We are not sure about your local customs, but we can help you reduce and avoid import taxes by declaring prices low, declaring the contents as "electronic accessories" or other items and shipping in simple packaging.

From jawed at

10/1/2014 11:55 PM

From Hermes Cardenas Rubiano at

10/15/2014 7:41 PM

From JuanCuellar at

10/31/2014 8:57 AM

From Hash at

10/31/2014 2:07 PM

From Ashkan at

11/5/2014 5:20 PM

From Mj at

11/19/2014 1:14 AM

Is thl 5000 available in the philippines and what kind of case come with it and is it updatable to android lollipop and how to update it also is white all white?????
POMP Mall
Thank you for your mail.
I regret that we have no dealer or re-seller in philippines, but we support worldwide shipping ,you can purchase this directly from our online shop,
THL 5000 phone come with case, it is Android 4.4 OS, color is all white.

From Mj at

11/19/2014 8:42 AM

Does it come with the otg in the box and is novo7tech not your philippines dealer because they sell thl 5000 and saw there youtube channel and they unboxed the thl 5000 and it diddnt come with a case and a otg in it and it said that they are an official thl resseller
POMP Mall
Thank you for your mail.
You can buy on our website.

From klejdi at

11/20/2014 2:04 PM

From MAURO MORELLI at

11/25/2014 9:04 AM

From Miguel Ferreira at

11/30/2014 3:26 PM

Hi!

I have some questions:

What is "English Setting For Free"?

What is the difference between "free shipping" and "Registered Air Mail" - "tracking number 15 - 25 business days"?

Thank You :)
POMP Mall
Thank you for your mail.
Help you put the phone into English,
Free shipping via Registered Air Mail without the tracking number 15-25 working days around to arrive at you .
Registered Air Mail: shipping cost $11.0 via Singapore post with the tracking number 10-25 working days around to arrive at you.

From Smart_Boy at

12/3/2014 6:04 PM

From klejdi at

1/2/2015 2:39 PM

From Antonio at

1/5/2015 8:52 PM

From Charlie at

1/18/2015 6:26 AM

From J. Alan at

1/24/2015 11:26 AM

I have read that the ThL5000 is available in 16GB ROM OR 32GB, but I don't see a 32GB ROM offered on your site.
Is the ThL5000 available with 32GB's of ROM?
Also, some sites say the microSD will support up to 32GB cards and some say 64GB. Which is it?
Thanks.


POMP Mall
Thank you for your mail.
THL 5000 phone no 32GB version,
THL 5000 support TF card up to 32GB, this is the official data.

From Wagner at

1/31/2015 11:24 AM

The gps of my Thl 5000 is inaccurate. When I am on a street it shows I am in the adjacent street. What to do to fix it? I have read in many forums many peopple has this problem with them thl 5000...
POMP Mall
Thank you for your mail.
In the boot state of input: *#15963#*
Open the GPS to accept
Enter the "EngineerMode" interface ,slide to the "Location" and choose "YGPS" to access to the test
Put the phone on the window to have a test and see if there is the satellite to receive
If star turns to the green ,it shows that the phone has been located
Whether the singal is good or not ,it depends on the quantity of the star data
Normally it takes 5-10 minutes when phone locates on the status of cold start
If still can't be located ,you only need to optimize the phone via the hardware

From DiWa at

2/17/2015 11:46 PM
Ask Your Own Question
You may also be interested in the following product(s)