Description
Details
Huawei Ascend Mate7 uses 2GB RAM and 16GB ROM, with Hisilicon Kirin 925 octa core CPU and Mali T628 MP6 GPU, Android 4.4 operation system, promising quite a fast operation speed. 6 inch screen allows the user to view videos and play games at a comfortable size and a clear vision due to the 1920 x 1080 pixels display resolution. 5.0MP front camera for convenient self-capturing, 13.0MP back camera for you to record every single moment clearly. It is absolutely a good choice to buy Huawei Ascend Mate7.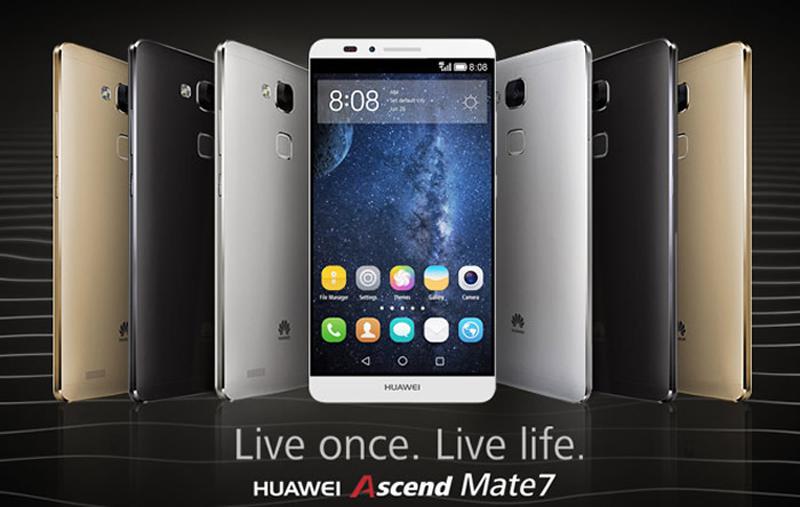 6 inch screen in a compact smartphone
Huawei Ascend Mate7 is featured with a huge FHD screen on an ultra-slim metal body that fits like a glove in one hand. Thanking to the almost invisible bezel and high screen-to-body ratio, it's noticeably more compact than other 6" screen smartphones.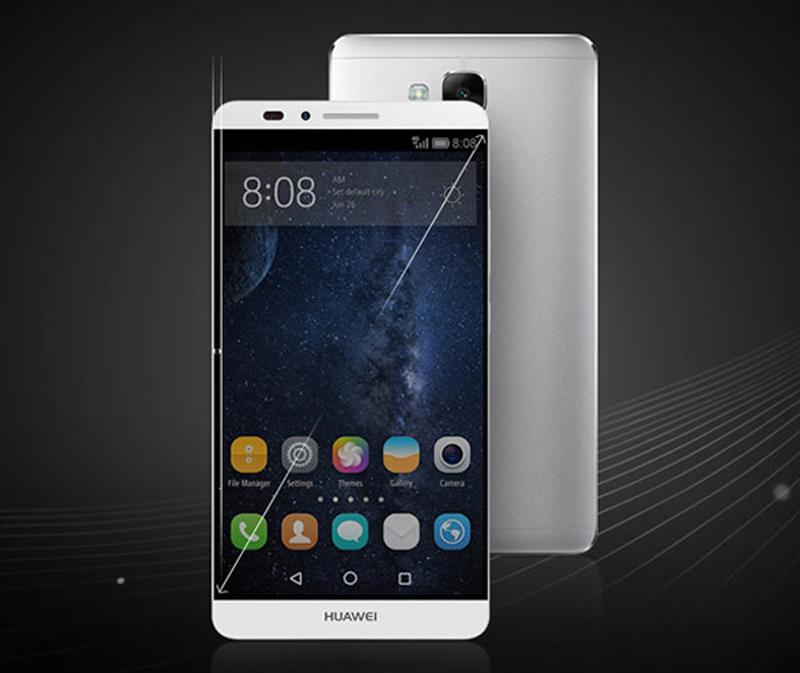 High Performance and efficiency
Huawei Ascend Mate7 is the first smartphone powered by a super eight-core Kirin 925 SoC chipset, providing a higher performance and lower power consumption, making it possible for you to enjoy 3D games or videos for a longer time.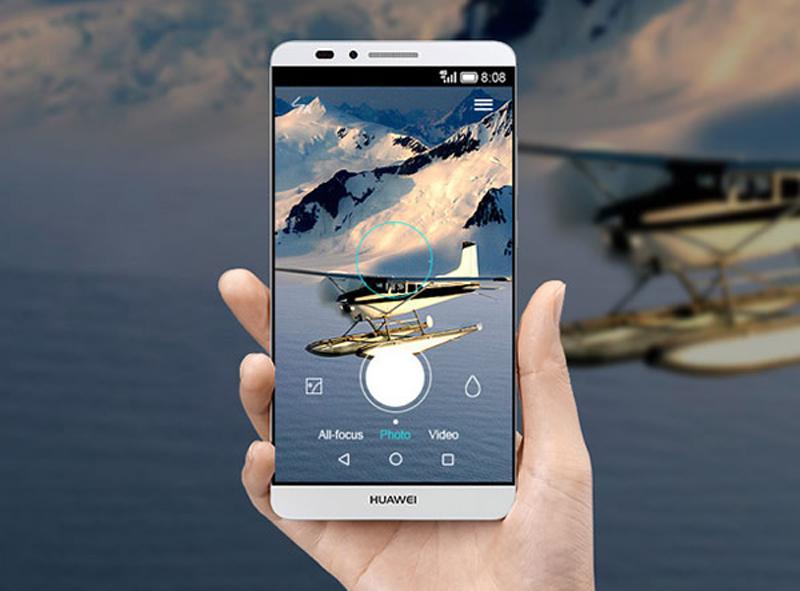 HD camera function
13MP lens ensures sharp and detailed shots, while the 5MP front camera is perfect for enhanced video calling. With 1.2-second Ultra snapshot and low-light performance, you can capture the right moment, whatever the condition is.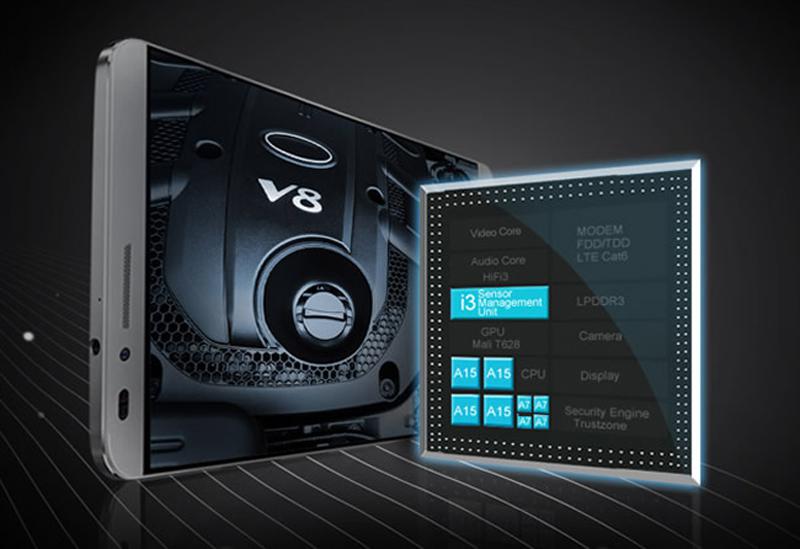 Huawei EMUI 3.0
EMUI 3.0 represents the next step up in operating experience that simplifies your life with a revolutionary interface that provides simple operations, extraordinary functionality, and an emotional connection with your smartphone.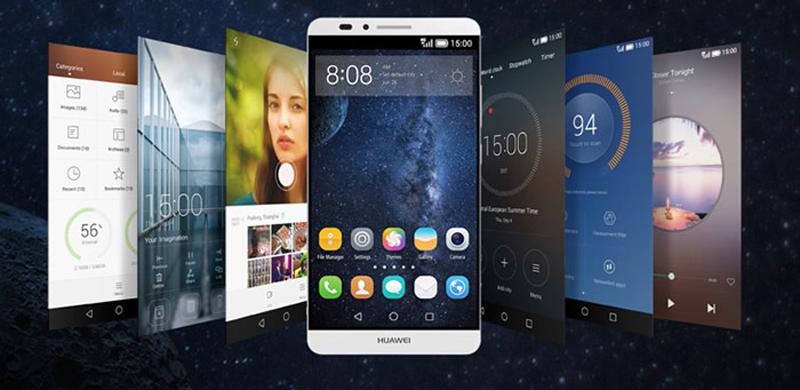 Huawei Ascend Mate7 Smartphone Highlights:
- 6 inch screen, 1920 x 1080 pixel display
- Hisilicon Kirin 925 octa core
- 13.0MP rear camera, 5.0MP front camera
- 2GB RAM, 16GB ROM
- Android 4.4
Huawei Ascend Mate7 Smartphone Basic Information

Model

Huawei Ascend Mate7

Band

2G: GSM/GPRS/EDGE: 850/900/1800/1900MHz
3G: WCDMA/HSPA+/DC-HSDPA: 850/900/1900/2100MHz
      DC-HSPA+ 42Mbps: Band1
4G: FDD-LTE: Band1/3
      TD-LTE: Band41(100MHz)

Sim Card

Dual SIM Card Dual Standby

Service Provide

Unlocked

Color

Silver

OS

EMUI 3.0 (Android 4.4)

CPU

Hisilicon Kirin 925 octa core

GPU

Mali T628 MP6

ROM

16GB

RAM

2GB

Display Size

6 Inch

Type

IPS LTPS, capacitive touch screen

Resolution

1920 x 1080 pixels FHD screen

Card Extend

Support TF card up to 128GB extended

Camera

Dual Cameras,

5.0MP front camera, 13.0MP back camera

with flashlight and auto focus, up to 4160 X 3120 pixels resolution, support Panorama, HDR, smile face capture mode, touch to capture etc

 

Huawei Ascend Mate7 Mobile Phone Basic Function

Audio File Format

MP3, MP4, 3GP, WMA, OGG, AMR, AAC, FLAC, WAV, MIDI, RA

Video File Format

3GP, MP4, WMV, RM, RMVB, ASF

Image File Format

*.png, *.gif , *.jpg, *.bmp, *.webp, *.wbmp

FM Radio

Yes, earphone needed

Earphone Port

3.5mm

GPS

Yes, built in, also support A-GPS

WIFI

Yes, 802.11 a/b/g/n,2.4G/5G

Bluetooth

Bluetooth 4.0

Gravity Sensor

Support

Electronic compass

Support

Gyroscope

Support

Multi-Touch

Yes

Language

English, Chinese

Other Feature

4G, WiFi, NFC, fingerprint sensor, GPS, FM, Bluetooth, Ebook, Email, Messaging, Wallpapers, Calendar, Calculator, Clock, Camera, Tethering & portable hotspot, etc

 

Huawei Ascend Mate7 Smartphone Size: 157 x 81 x 7.9mm
Huawei Ascend Mate7 Smartphone Weight: 185g

 

Huawei Ascend Mate7 Mobile Phone Accessories:

1 x 4100mAh Battery

1 x USB Cable

1 x Charger 

Huawei Ascend Mate7 will be shipped with adapter plugs for the shipping address of the buyer.

 

Huawei Ascend Mate7 Review: https://www.youtube.com/watch?v=8Bl3EcwEO2A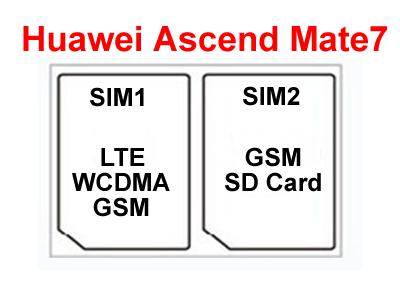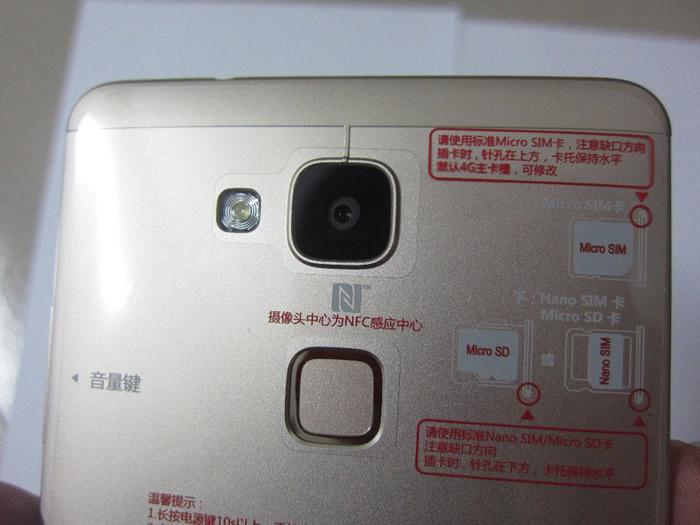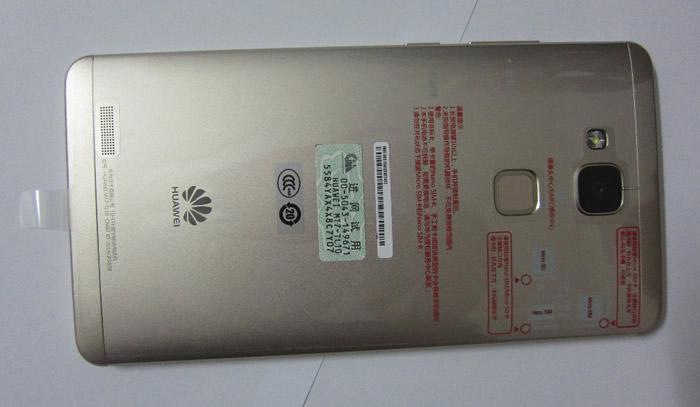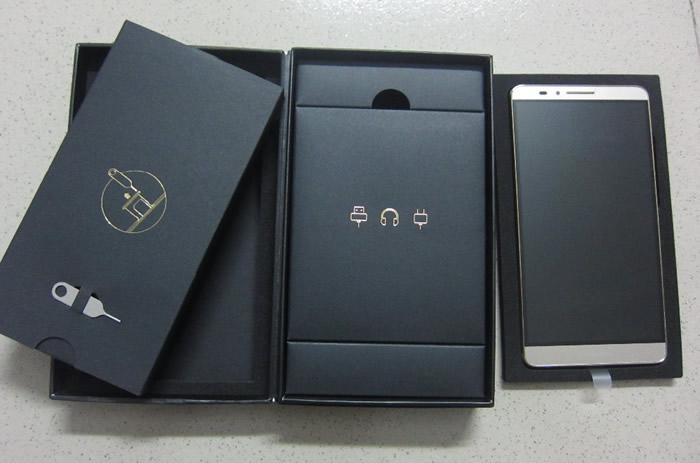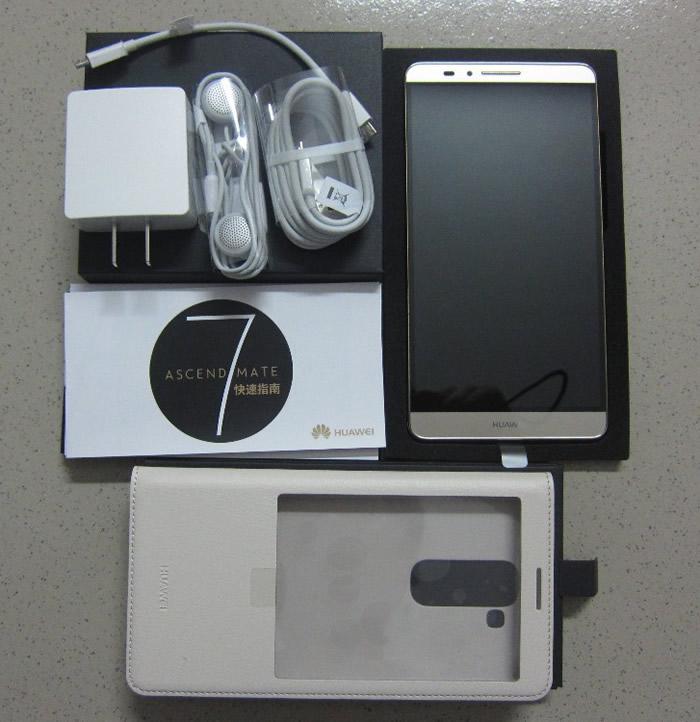 Reviews
Worth the value

Review by

Jenny

I bought this phone for the last 2 weeks, I'm glad with it. i just don't believe the experiences is similar to iOS, i feel it even faster than my iphone5s. it's not like other android phones. The quality of some apps in play store is a minus but this is not phone maker's fault...consider what i experienced in other Android phones, i would give this phone a 5 star.... by the way, its touch do works faster than 5s! i will update the review if the speed go slow like my previous phones. (Posted on 2/10/2015)
Write Your Own Review
Tags
Questions on Huawei Ascend Mate7 4G LTE Android 4.4 Octa Core 6 inch Smartphone 2GB 16GB 13MP camera OTG Silver
Sort by

From Kara at

9/21/2014 5:55 PM

Can this Huawei Ascend Mate7 mobile phone be able to upgrated to Android L?
POMP Mall
Thank you for your mail.
Sorry but the Huawei official have not released the Huawei Ascend Mate7 Android L firmware on the website, once released, we will upload it to our site at the first time.

From Sri at

10/3/2014 8:51 PM

In need to buy this phone in Singapore.. Can help me how I can busy this ?
Any website or store ?
POMP Mall
Thank you for your mail.
Huawei Ascend Mate7 phone tight supply now,
We will email you at the first time when the Huawei Ascend Mate7 smartphone be available.

From Alex at

10/5/2014 6:03 PM

Does this Huawei Ascend Mate7 smartphone support upgrated to Android M?

POMP Mall
Thank you for your mail.
Sorry but we haven't got any information about the uawei Ascend Mate7 Android M firmware from the official website, once released, we will upload it to our site at the first time.

From Ian at

10/19/2014 5:06 AM

What does OTG mean?

Do you ship directly to the philippines?

How much is the shipping cost?
POMP Mall
Thank you for your mail.
OTG is the On-The-Go abbreviation, mainly used in connecting different devices or various mobile devices, data exchange,
We support shipping to philippines and the shipping cost is 11.0USD.

From vinodh at

11/11/2014 6:26 AM

Hi vikas from bangalore... I need one can you ship this product here....is the mobile unlocked and work here in indian network... Plz help out wid price n charges
POMP Mall
Thank you for your mail.
Huawei mate7 is unlock phone,
4G LTE frequency can not work in India,
Huawei mate7 is in stock and ready to send.

From mike5975 at

11/12/2014 4:24 PM

Can you confirm That the 16g rom /2g ram is really a dual sim phone ?
I have read in some reviews That only the 32g versions are dual sim
When do you think the 32g version will be in stock again?
Thank you for your Quick answer

POMP Mall
Thank you for your mail.
Yes, Huawei mate7 16GB version is dual sim dual standby dual active.

From daniel at

11/30/2014 8:30 AM

From Codrut-Cosmin Caliman at

11/30/2014 11:53 AM

Is this the international version? Does it have GooglePlay? Or is it a version for China.
The 32Gb model will be in your stock anytime soon?
Thank you !
POMP Mall
Thank you for your mail.
You need to download the Google Play Store in the APPS center,
We will email you at the first time when the mate7 32GB smartphone be available.

From Sabin at

12/10/2014 1:32 PM

From Lucija at

12/27/2014 11:02 AM

Hello, I have a question regarding the warranty. I wish to buy this phone, and I live in Croatia. If, by any chance, something happens to the device, can I take it to any certified service shop that deals with Huawei phones here in Croatia, or what? Does the warranty still count if I do that?

Thank you for your time,

Lucija N.
POMP Mall
Thank you for your mail.
I'm sorry, we do not have service center in Croatia,
All are under one year warranty. (Excluding the accessories). If any problems,pls contact our after-sale customers service any time.

From Frederico Joannes at

1/20/2015 12:44 PM

Hello ,
Huawei ascend mate 7 can be imported in Europe without problems with the customs ?
Because i don't see the "CE" (European Certification) label in the back of this phone on your pictures ?
Do you thing it will be a problem with the European authority ?
Please let me know because I LOVE this phone ...
Thxxxx
POMP Mall
Thank you for your mail.
We are not sure about your local customs, but we can help you reduce and avoid import taxes by declaring prices low, declaring the contents as "electronic accessories" or other items and shipping in simple packaging,
Huawei Ascend Mate7 have CE certification, we only provide genuine products.

From Guilherme at

1/30/2015 12:49 PM
Ask Your Own Question
You may also be interested in the following product(s)