Description
Details
Huawei Honor 6 with HUAWEI Hisilicon Kirin 920 octa core processor, Android 4.4.2 operation system. 3GB RAM and 32GB R0M, 5 inch screen allows the user to view videos and play games at a comfortable size as well as clearly due to this phone's 1920 x 1080 pixels display resolution. With the high end dual cameras, front 5.0 MP, back 13.0 MP with flashlight auto focus, you can record the happy moment easily. It is absolutely a good choice to buy Huawei Honor 6.
300Mbps beyond imagination, 4G LTE Cat6 leaving you advance into the future
The era of 4G LTE has arrived. What better way to celebrate than with a device that is built to fully complement the speed and power of 4G technology.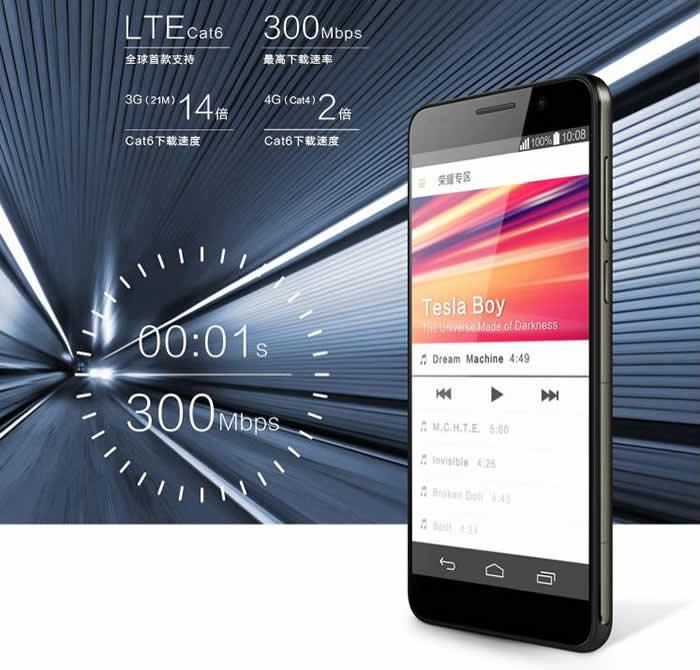 5 inch full HD screen, brings the unparalleled feeling
The touch screen technology on the Huawei Honor 6 is both exceptionally resistant and extremely sensitive, providing benefits like non-touch floating operation support and double-touch screen activation.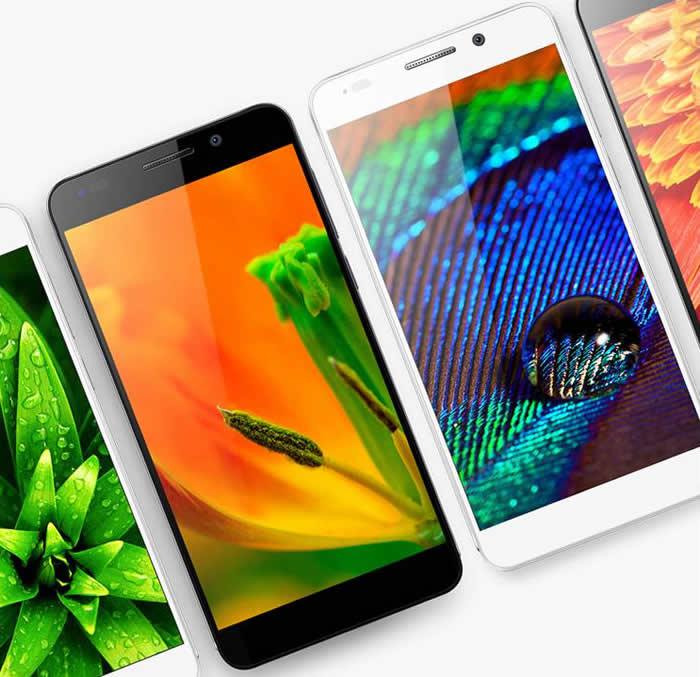 Top 3GB DDR3 RAM, fun experience
Clocked 800M 3GB LPDDR3 large memory, when running multiple tasks are still flowing freely. 16GB/32GB eMMC storage capacity of the fuselage, maximum support 64G SD card expansion.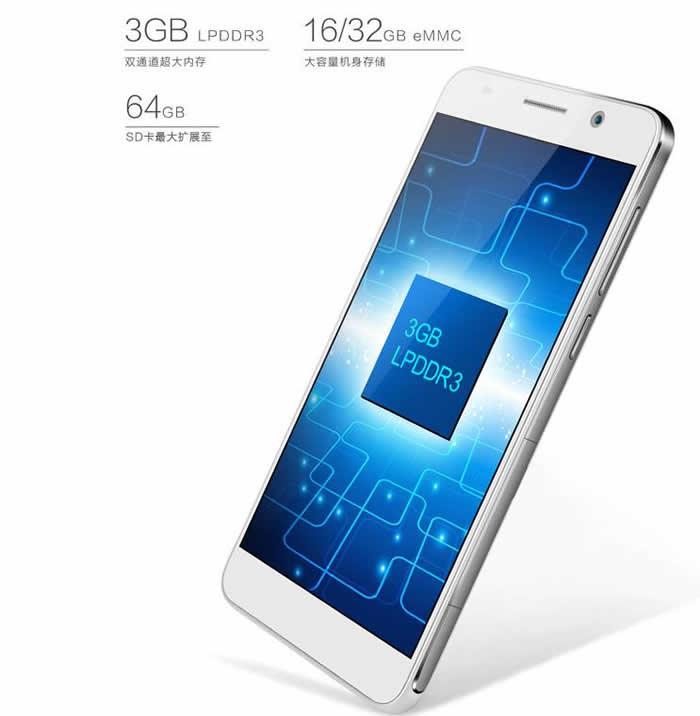 Rear 13MP Camera, a completely new experience
Rear 13.0MP Sony fourth generation BSI stack type camera, F2.0 large aperture, 5-piece ISP lens and BSI sensor, equipped with dual LED flash, wherever you find yourself you can put yourself in the picture, and include every detail of the amazing world that surrounds you.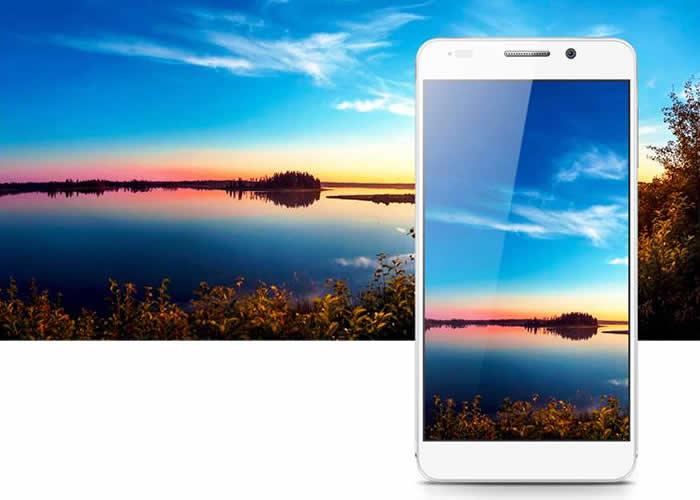 Selection composite materials, after 6-layer high composite technology crafted
The Huawei Honor 6 use a 6-layer high composite technology design never seen before in a smartphone. A process that increases transparency and gives it a stunningly beautiful look and feel in the hand.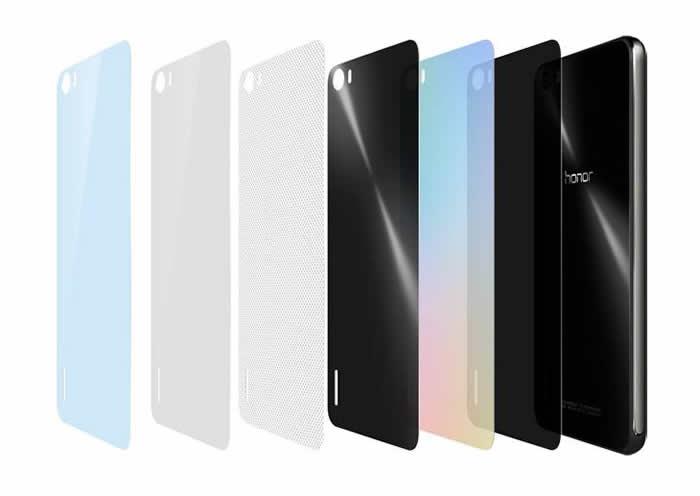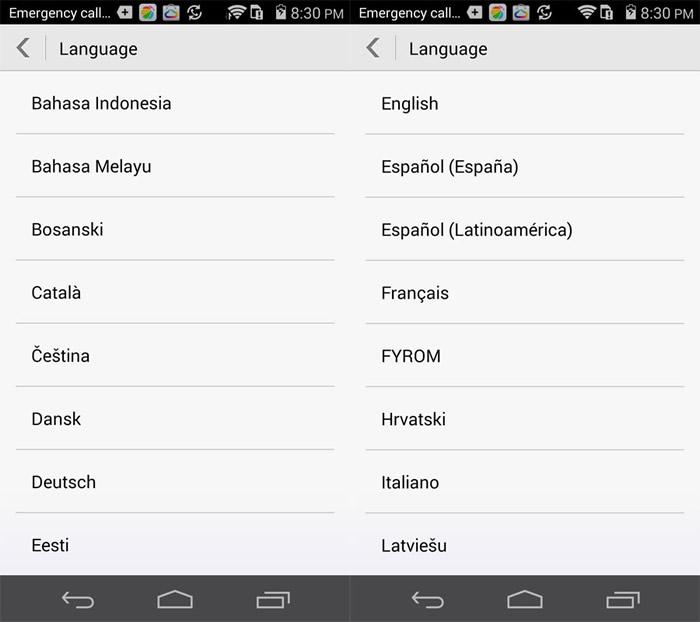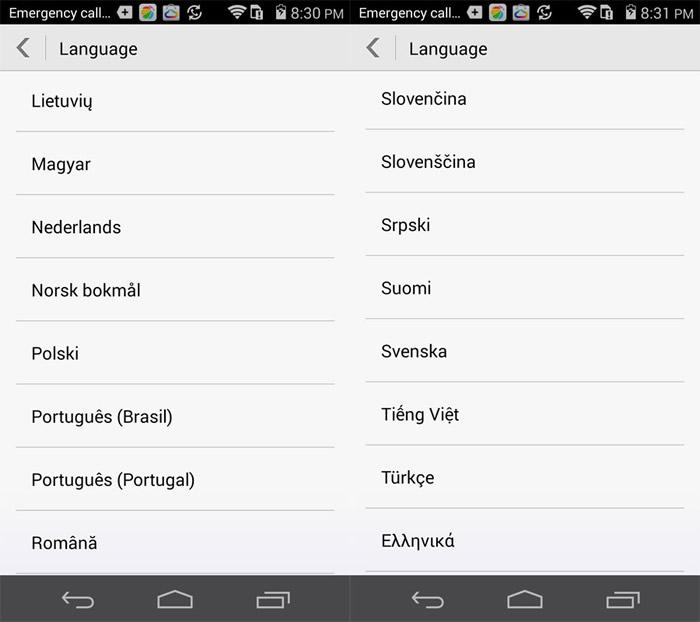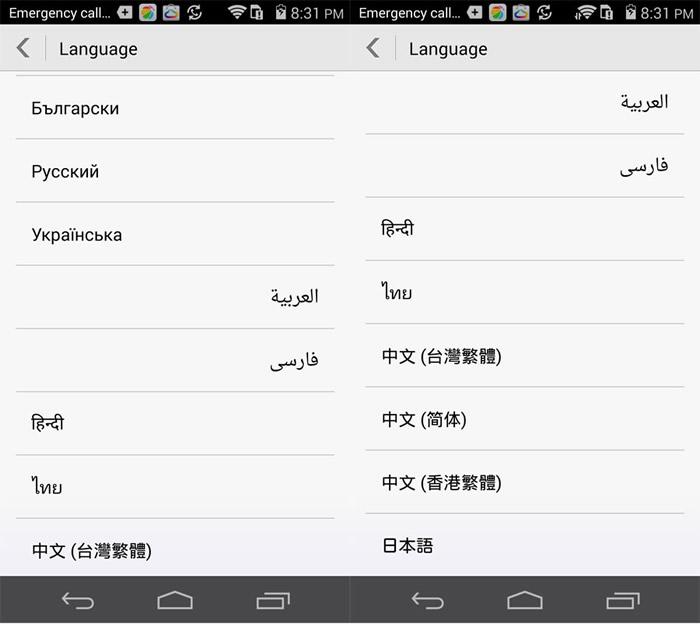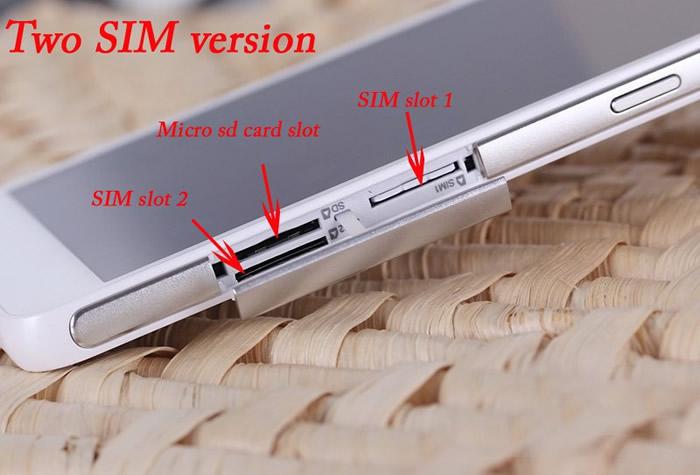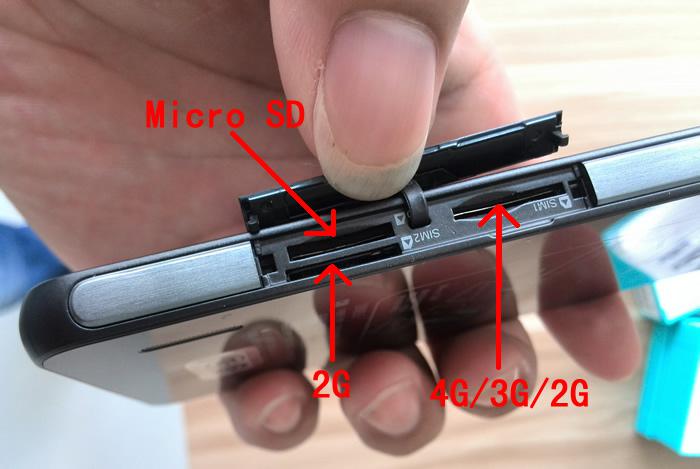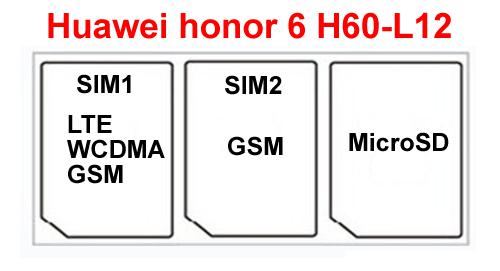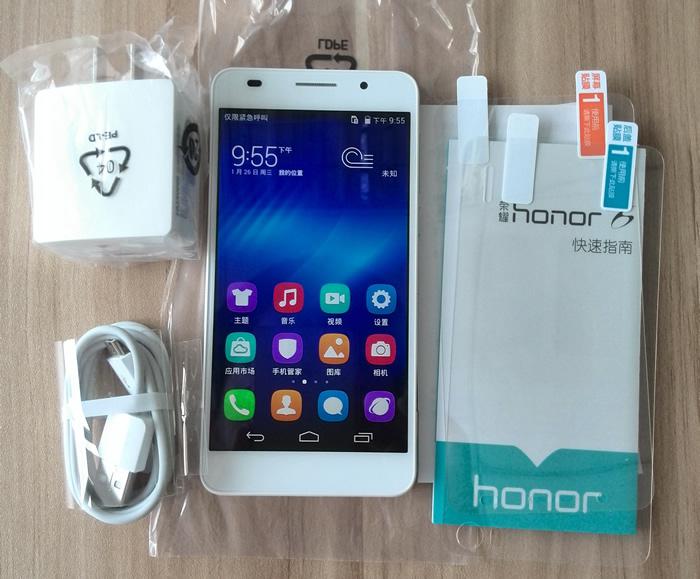 Huawei Honor 6 Smartphone Highlights:
- 5 inch screen, 1920 x 1080 pixel display
- HUAWEI Hisilicon Kirin 920 octa core
- 13.0MP rear camera, 5.0MP front camera
- 3GB RAM, 32GB ROM
- Android 4.4
Huawei Honor 6 Smartphone Basic Information

Name

Huawei Honor 6

Model

H60-L12

Band

2G: GSM 850/900/1800/1900MHz
3G: UMTS(WCDMA): B1(2100MHz)/B8(900MHz)
4G: FDD-LTE: B1(2100MHz)/B3(1800MHz); TDD-LTE: B41(2496-2690MHz)

Sim Card

Dual micro-sim card

Service Provide

Unlocked

Color

White

OS

Android 4.4

CPU

HUAWEI Hisilicon Kirin 920 octa core

GPU

ARM Mali-T628 MP4

ROM

32GB

RAM

3GB

Display Size

5 Inch

Type

TFT LTPS

Resolution

1920 x 1080 pixels

Color

16000K colors

Card Extend

Support TF card up to 64GB extended

Camera

Dual Cameras,

front camera 5.0MP; back camera 13.0MP

with flashlight and auto focus, support HDR Movie, Maximum support 4160 × 3120 pixel photo shoot

 

Huawei Honor 6 Mobile Phone Basic Function

Video encoding

H.265 (supported only decoding), H.264, H.263, MPEG-4, RV7-10, Xvid, VP8, WMV9; support 1080P playback

Video File Format

3gp, mp4, wmv, rm, rmvb, asf

Audio Coding

MP3, MIDI, AMR-NB, AAC, AAC +, eAAC +, AMR-WB, WMA2-9, RA, PCM, OGG, FLAC

Audio File Format

mp3, mp4,3gp, wma, ogg, amr, aac, flac, wav, midi, ra

Audio and video output

output via MHL

Audio

DTS sound processing technology integrates

Ebook

Support

Flash Player

Support. Required the user to download and install the Adobe Flash Player software

Gravity Sensor

Support

Light sensor

Support

Distance sensor

Support

Acceleration sensor

Support

Electronic compass

Support

Gyro

Support

NFC

Support

FM Radio

Yes, earphone needed

Earphone Port

3.5mm

Data transfer

USB/Bluetooth

Mobile internet

WAP/WiFi

Message

SMS/MMS

GPS

Yes

Bluetooth

Yes

WIFI

Yes, support 2.4G/5G,802.11 a/b/g/n

Multi-Touch

Yes, 10 point touch

Language

English,Russian,German,French,Spanish,Portuguese,Italian, Simplified/Traditional Chinese

Other Feature

WIFI, GPS, FM, Bluetooth, Ebook, Email,Messaging, wallpapers, calendar, calculator,clock, camera, tethering & portable hotspot,Dolby Digital Plus, DLNA, Kingsoft Office,motion control(flip to mute, pick up to reduce the ring volume, raise to ear to answer or make calls), screenshot shotcut(power button & volume -), flashlight, etc

 

Huawei Honor 6 Smartphone Size: 139.6mm x 69.7mm x 7.5mm
Huawei Honor 6 Smartphone Weight: 130g

 

Huawei Honor 6 Mobile Phone Accessories:

1 x Built-in 3100mAh Battery

1 x USB Cable

1 x Charger

Huawei Honor 6 will be shipped with adapter plugs for the shipping address of the buyer.

 

Huawei Honor 6 Review: https://www.youtube.com/watch?v=9hkK_cRF6Vg
Reviews
Tags
Questions on Huawei Honor 6 4G FDD Android 4.4 3GB 32GB Octa Core Smartphone 5 Inch 13MP camera NFC White
Sort by

From Franz at

9/17/2014 7:05 PM

From Miguel at

9/21/2014 4:39 AM

Hello,

I live in Spain, if i buy the smartphone the package would be sent as a gift?
POMP Mall
Thank you for your mail.
We can declaring the contents as "electronic accessories" or other items and shipping in simple packaging, After purchasing tell us your order number.

From Friligos Sofokles at

10/2/2014 4:52 AM

From Friligkos Sofoklis at

10/7/2014 1:51 AM

If I ordered Huawei Honor 6 4G FDD Android 4.4 3GB 32GB Octa Core Smartphone 5 Inch 13MP camera NFC White, how much money would it cost me (in EUR), if I wanted you to deliver it to me in Greece, by a courier (e.g. DHL, USC, etc) + shipping insurance? I'd also like to know if I'll have to pay any additional taxes. Could I pay for it the minute I receive the phone or through PayPal? Could you add a greek menu and if so, at what additional price? If not, how can I add it? Is it going to have an english menu? How many days will it take for me to get my hands on the phone, from the day I make an official order? Thank you very much, for your time.
POMP Mall
Thank you for your mail.
Huawei honor 6 32GB version price is 368.99EUR,
We are not sure about your local customs, but we can help you reduce and avoid import taxes by declaring prices low, declaring the contents as "electronic accessories" or other items and shipping in simple packaging,
The shipping cost to Greece is $11.0 via Singapore post with the tracking number 10-25 working days around to arrive at you.

From Sofoklis Friligkos at

10/13/2014 7:21 AM

How much money (in EUR), will "4G H60-L12 32GB NFC White" cost me with an additional 12-month-extended-warranty (totally a 24-month-warranty) plus a shipping damage insurance Thank you for your time.
POMP Mall
Thank you for your mail.
The total cost is 400.97 EUR(Shipping costs not included, We do not know your country)

From Praveen at

10/25/2014 9:57 PM

Does 4G H60-L12 NFC White available in 16GB?
Does the 4G band provided by this device is supported in India?
Does this comes with manufacturer warranty or do we need to pay for the 12 months extended warranty?
POMP Mall
Thank you for your mail.
Huawei honor 6 H60-L12 4G LTE frequency can not work in India,
All are under one year warranty. (Excluding the accessories). If any problems,pls contact our after-sale customers service any time .

From ARUN C at

10/26/2014 7:30 AM

From ARUN C at

10/27/2014 2:24 AM

From vicky at

11/14/2014 1:55 AM

This version 32gb dual sim will work in indian 2g and 3g networks?if no, give me a link to buy india variant with 32gb dual sim honor 6.
POMP Mall
Thank you for your mail.
Huawei Honor 6 32GB dual sim version 2G and 3G can work in India, but 4G LTE frequency can not work in India, If you do not use the 4G network, you can buy.

From nick at

11/15/2014 8:47 AM

From nick morosanu at

11/16/2014 10:23 AM

From BALAJI at

12/20/2014 12:16 AM

Huawei Honor 6 4G FDD Android 4.4 3GB 32GB Octa Core Smartphone 5 Inch 13MP camera NFC

whether model is available in INDIA with 32 GB ROM?
IF not if i buy in online how much cost it would be charged to be delivered to my local address in INDIA.
The phone can be directly used in INDIA or it has to be unlocked?
Whether DUAL SIM ca be used in INDIA?
Whether there is international warranty(it can be claimed in INDIA too?)
If 4G could not work in INDIA but how about 3G?

Thanks in advance

POMP Mall
Thank you for your mail.
Huawei honor 6 H60-L12 32GB version not released in India,
The shipping cost to India is 11.0USD by Airmail,
honor 6 is unlocked phone,
dual sim can be use in India,
it does not have international warranty,
3G can work in India.

From Sohaib at

12/29/2014 4:29 AM

Hi there,

I tried to order the media pad X1 but coulc not order it because the at payment page the drop down list do not show my country (Pakistan). how can i make payment for this? please reply at your earliest. also let me know what price i have to pay if I purchase both Mediapad X1 & Honor 6 (quote total price + shipping cost)
POMP Mall
Thank you for your mail.
First add the product what you want to buy to the shopping cart, and then enter your destination to get a shipping estimate, and you will get a quote. After that choose the Proceed to Checkout button at the right, then fill in the billing address, including your name, Email address, address, country, city, zip code and your telephone number and so on, the more details the better. Next, choose the shipping method and payment method, then you will see the checkout review below, make sure there is no wrong and then place the order. We will received your order request and arrange the shipping for you as soon as possible,
Huawei Honor X1 32GB version and huawei honor 6 32GB version Grand Total: $739.80(shipping cost is not included), shipping cost is $21.50.

From Amit at

12/30/2014 5:58 AM

From jeeva at

2/5/2015 9:37 AM

From Miguel at

2/13/2015 1:15 AM

From Miguel at

2/14/2015 2:57 AM

Huawei Honor 6 4G FDD Android 4.4 3GB 32GB Octa Core Smartphone 5 Inch 13MP camera NFC which SIM is working with TMobile in USA ?Thanks
POMP Mall
Thank you for your mail.
Huawei honor 6 H60-L12 dual sim version SIM1 support 4G/3G/2G, SIM2 support 2G, 3G and 2G network can work in USA.

From Miguel at

2/19/2015 1:06 PM

From sbsp at

3/6/2015 9:55 AM

From Ravindra at

3/7/2015 5:11 AM

From christopher at

3/10/2015 4:35 PM

Hi, I have a few quastions:
- which model of Huawei Honor should I order to Poland ( with working LTE and NFC if its possible)?
- is dual sim active or stand by?
- is it possible to get it with polish menu (English as an additional one)?
- how long will I wait for phone after payment?
- is it with 12 months guarantee included in price?
-will Lollipop available for Huawei Honor?
greetings
Christopher
POMP Mall
Thank you for your mail.
Huawei Honor 6 4G H60-L12 32GB NFC support shipping to Poland.
It support dual Sincard dual standby and dual active and English language.
All our products will be sent out within 3 working days around after payment.
All are under one year warranty. (Excluding the accessories). If any problem, please contact our after-sale customers service at any time.
Once the Huawei Official released the Android L firmware, we will upload on our website soon.






From Dimitrios Pappas at

3/18/2015 8:23 AM

Hello from Greece,
I saw in the pictures that the huawei honor 6 has the option of the Greek language,so i guess i can use it in Greece without some extra settings from you,right?Second are there any apps that should put for my contry to use or some that can't use and you should delete them?Thanks a lot!

POMP Mall
Thank you for your mail.
Huawei Honor 6 do support Greek language, you can choose it by your own. All our products will be fully checked and we will delete the Chinese Apps before we send.

From Sumit at

3/19/2015 7:43 PM

All questions for the H60-L12 model.
Does it have gorilla glass screen?
Does it have infrared blaster?
Does it have USB OTG ?
Earpiece is not included ?
Does it have FM radio with RDS or just FM radio?
Does it have software update OTA?
POMP Mall
Thank you for your mail.
Huawei Honor 6 H60-L12 come with gorilla glass screen,
it support Infrared remote control,
it support USB OTG,
it is not include earphone,
it have FM radio,
Software can be updated via OTA.

From Dimitrios Pappas at

3/21/2015 2:37 PM

Hello pompmall,
I'm trying to order 2 huawei honor 6 phones but the system says that there's not shipping informations for Greece,which is the problem,you don't send phones in Greece?
POMP Mall
Thank you for your mail.
Sorry but the Huawei Honor 6 mobile not support shipping to Greece at present.

From Tariq at

3/22/2015 5:39 AM

Hi
I am planning to buy Huawei Honor 6 4G dual sim
which mode i have to choose FDD or TDD

I am living in Saudi Arabia
Operators are STC and Mobily

Regards
POMP Mall
Thank you for your mail.
Huawei Honor 6 4G FDD version can work with 4G network in Saudi Arabia.

From Navdeep at

3/22/2015 3:03 PM

Huawei Honor 6 4G FDD Android 4.4 3GB 32GB Octa Core Smartphone 5 Inch 13MP camera NFC White can be shipped to Italy with which cost and has a warranty?
POMP Mall
Thank you for your mail.
Yes, we support shipping to Italy and the shipping cost to Italy is 22.67USD by Express, you will get your package in 3-5 business days around.
All are under one year warranty. (Excluding the accessories). If any problem, pls contact our after-sale customers service at any time.

From Laxman Koli at

3/26/2015 6:38 AM
Ask Your Own Question
You may also be interested in the following product(s)